Alder II förvärvar r2pTracking ApS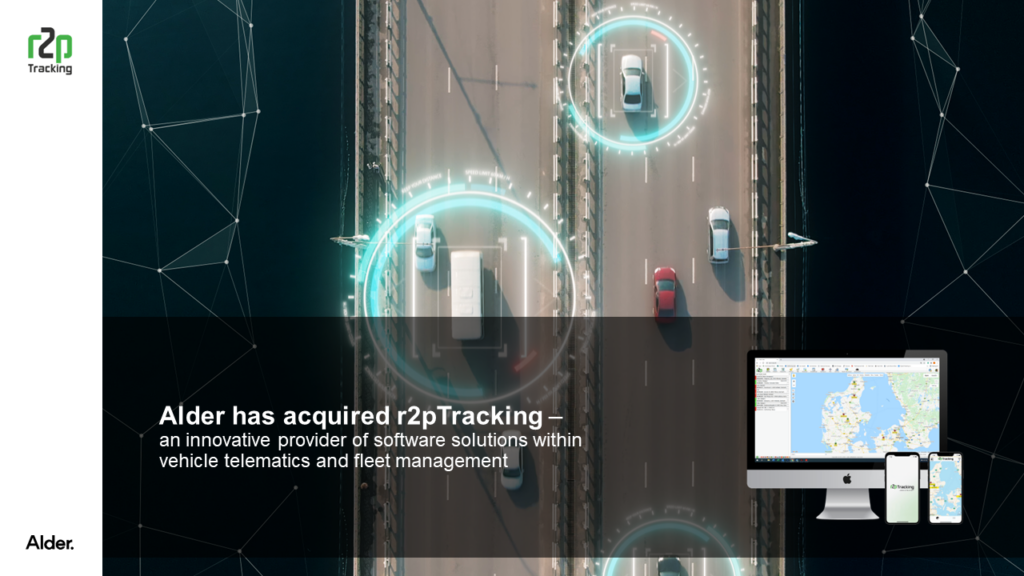 Alder has acquired r2pTracking, an innovative provider of software solutions within vehicle telematics and fleet management
Stockholm – January 3rd, 2023 – Alder II AB ("Alder"), a Nordic investment fund focusing on the development of sustainable companies, has acquired all the shares in r2pTracking ApS ("r2pTracking" or the "Company") from r2p Group GmbH. Alder will become majority owner of r2pTracking and will partner with the founder and Board to continue the growth journey of the Company.
r2pTracking, founded in 1997, provides proprietary developed hardware-enabled software solutions within vehicle telematics and fleet management solutions in Denmark. The Company is headquartered in Viborg, Denmark, with 31 employees and has a track record of profitable growth with annual turnover of ca. 40 MDKK and ca. 45,000 connected devices across a variety of customer segments.
The telematics industry is fuelled by fundamental growth drivers and need of operational efficiency, regulatory requirements, the insurance industry as well as increasing environmental focus. The industry offers attractive business fundamentals with recurring revenues and high customer stickiness. The environmental benefits are related to reduced fuel emissions by optimising driver routes, predicting traffic, and visualising and analysing driving habits.
"We know the Company and team well from before and are very much looking forward to partner up with Bjarne Nielsen and his team again. As the new majority owner, Alder will provide capital and experience to support the Company to accelerate its growth journey through geographical expansion, M&A and further developments of the organisation and competitive offering."
says Keiward Pham, Investment Director at Alder
"I am looking forward to working with Alder again and getting full focus on what we do best – namely tracking, fleet management and operational efficiency. At the same time, we look forward to taking an even bigger step into the European market. I would like to take this opportunity to thank r2p Group, and in particular Flemming Kær, for 9 years of good cooperation."
says Bjarne Nielsen, CEO of r2pTracking
For more information, please contact:

About r2pTracking ApS
r2pTracking, founded in 1997, is a GPS tracking and fleet management provider that supplies proprietary developed hardware-enabled software solutions for a wide range of customer needs. The Company has grown into one of the largest telematics providers in Denmark following a strong focus on organic growth coupled with recent acquisitions and has today ca. 45,000 connected devices across a variety of customer segments.
For more information, visit www.r2ptracking.dk
About Alder
Alder II AB is a Nordic investment fund with AUM amounting to SEK 1.5 bn and with the goal of creating the best possible conditions for long-term development of sustainable technology and services companies. With a mix of industrial and financial expertise and with the interest in entrepreneurship as a driving force, Alder creates profitable growth in close companionship with our companies.